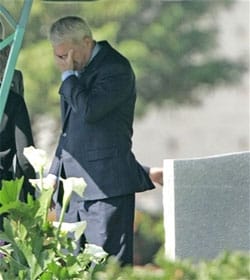 Disgraced congressman Mark Foley said good-bye to his father Ed over the weekend in a eulogy that "started in the voice of a politician but quickly unraveled into sobs," according to the Palm Beach Post. Said Foley to the gathered mourners:
"And most of all, I want to thank Daddy, for not losing faith in me these last weeks he was alive, even though I had disappointed him so deeply…I disappointed him so much. But he was so good of a man."
Just days before, Foley left his rehab treatment at the Sierra Tucson facility to face an official criminal investigation opened by the Florida Department of Law Enforcement into his relationships with congressional pages. It made Saturday's funeral anything but ordinary:
"The funeral scene at the church could have been a simple portrait of grief: the flag-draped coffin, the organ requiem, tissue-toting mourners huddled in the pews, the family members in black. But on the street outside stood a battery of television cameras. And down the center aisle with the grieving family came the man in the eye of the national furor, a grimaced, wet-eyed smile on his face, congressional cufflinks dangling from the sleeves of his shirt."
Foley's father was 85, and had been battling cancer for three years.
Through the tears, Foley remembers father as good man [palm beach post]
Tearful Foley says he disappointed dad [ap]
You may have missed…
Lane Hudson, Blogger who Exposed Mark Foley, Speaks [tr]
Mark Foley Rehab Stay Extended; Movie "Flying Off Shelves" [tr]