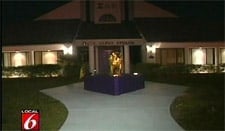 The Sigma Alpha Epsilon at the University of Central Florida is under investigation after police raided the frat house during an apparent hazing exercise and discovered pledges in diapers, fairy wings, and women's panties:
"An incident report indicated that a male in the fraternity was spotted wearing pink fairy wings and women's underwear and was not able to walk on his own. The report also said the officers found a man wearing a pink tank top, women's underwear and a blond wig who was lying on the floor and vomited several times. Another male was sobbing on the floor wearing a rainbow-colored wig and a diaper."
Three students were found so drunk they had to be rushed to the hospital.
Evidence of the sexual assault was not named, but a slide show attached to the local news story noting the presence of "mangled hot dogs" may offer some clue.