Fashion designer Marc Jacobs checks into rehab.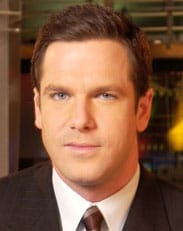 Thomas Roberts to open up to Anderson Cooper about sexual abuse at the hands of a Catholic priest: "My abuser was Father Jeff Toohey, a trusted man of God. He was the equivalent of a religious celebrity in my private all-boys Catholic school in Baltimore, Maryland. Father Jeff was every boy's friend and mentor. I considered him my mentor as well. When my parents divorced, I was sent to Father Jeff to help me cope with all the changes. Divorce in the mid-1980s still seemed so foreign. Plus, I was just a kid, and I didn't know much about divorce. I just knew it sucked. All I had at that time in my life was my family and school. Those were my constants. But as my family fell apart, so did my life at school. After the abuse began, high school became a prison of shame and lies."

Cyndi Lauper to headline True Colours tour in June to promote gay rights, benefiting HRC: "The tour, sponsored by Logo, the MTV Networks channel targeting gay audiences, will provide information to fans who attend, as well as purple wristbands with the slogan "Erase Hate" from the Matthew Shepard organization, named for a gay youth killed in an apparent hate crime. A dollar from every ticket sold will be earmarked for the Human Rights Campaign, which advocates equal rights for gay, lesbian, bisexual and transgendered people." Tour will also feature Deborah Harry, Erasure and Margaret Cho.

Andrew Christian models show off the goods at Las Vegas magic show.

This morning I posted Jennifer Hudson's comments regarding her former employer, Burger King. The restaurant chain has now offered her free meals for life.

Gay ghettos dying: "Don Reuter, a New York writer researching a book on the rise and fall of gay neighborhoods in the U.S., said he has observed a trend in cities as far-flung as New Orleans, Philadelphia and Seattle: Gay neighborhoods are becoming 'Disneyfied' places, with chain stores and other businesses with little or no overt appeal to gays. 'What makes these neighborhoods gay? Not much,' he concluded. As the fear of AIDS has eased, gay neighborhoods have become attractive to developers and investors trying to encourage families and empty-nesters to return to city centers, Reuter said."

BBC presenter criticized after calling comedy show contestant "a big gayer" for tearing up.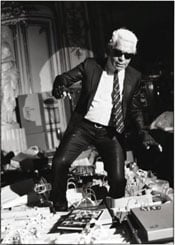 The New Yorker has published an extensive profile on Karl Lagerfeld, who, in addition to having a dashing personal assistant/bodyguard, prefers to stay in the now: "Lagerfeld's determination to stay current requires ruthlessness and a lack of sentimentality. He periodically rids himself of art, objects, and places that, previously, had been sources of inspiration and pleasure. People are not exempt. "He kind of passes on, because he doesn't like the past," one of the people who travels in Lagerfeld's circle says. "So then he decides you're the past and then he just puts you in the trash." Lagerfeld says, "I have an entourage of people of today. Because people can work with me for a hundred years but they have to stay informed. And no regrets, no remove, not saying, 'Oh, things were better then.' " According to his publishing partner, Gerhard Steidl, when Lagerfeld reads a thick paperback, he tears out the pages as he finishes them."

Ben Patrick Johnson launches his videoblog with an interview with Marcellas Reynolds.