High school in South San Francisco celebrating 'Gay-Straight Alliance Week' and observing the national 'Day of Silence' this Wednesday is vandalized with anti-gay, racial epithets: "There was Nazi symbols on some teachers' doors, there was the Star of David circled and then crossed out. There were a couple Bible versus which I found personally offensive. On the side of the gym there was a big hand spray painted with the middle finger sticking up saying 'Day of Silence This."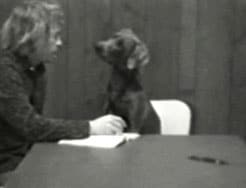 P-A-R-K – early William Wegman film online.

You're on the air: Canada's first radio station for gays and lesbians, Proud FM, goes online, and over the airwaves in Toronto: "The people behind 103.9 Proud FM say they hope to add diversity to the radio dial by exploring issues and stories relevant to Canada's gay and lesbian community — voices they say are largely unheard elsewhere….Proponents of the new station have been working to get the project off the ground for about 10 years."

Maxim names Sanjaya its "Girl of the Day".

Musical theater reality show underway: 'Life is a Song' will give people who have major announcements to make or questions to ask the opportunity to do so via an elaborate song and dance number. It's based on the tuner tradition of characters breaking into song when emotions become too strong for words. Each half-hour seg will chronicle the backstory behind the person doing the singing, as well as show that person learning how to sing and dance. Scout's Metzler and Collins came up with the idea for 'Life' and then recruited Zadan and Meron because of their decades of experience with musical productions. Zadan and Meron in turn enlisted help from past collaborators, including 'Footloose' writer Dean Pitchford. Scout has brought on Evan Weinstein to serve as co-exec producer." Imagine coming out to your family like this! Now that's gay.

2007 Pulitzer Prize winners named.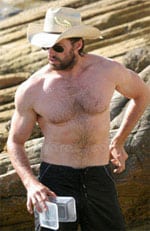 Hugh Jackman hits the beach in Sydney, Australia.

Great White Shark let loose in Northern California turns up in Cabo San Lucas.

BBC to broadcast mass from predominantly gay Catholic church in San Francisco's Castro district: "In the service to be broadcast on BBC Radio 4, Fr. Donal Godfrey SJ of the University of San Francisco will preside. James Alison, Catholic theologian and author of 'Is it ethical to be Catholic? – Queer perspectives', will be preaching. 'It is the style of ministry and liturgy at places such as MHR that influenced many of us familiar with these parishes, and so inspired us to develop the kind of parish-set ministry with LGBT Catholics that we now celebrate in Central London' said a statement from the Roman Catholic caucus of the lesbian and Gay Christian Movement in the UK."

John Amaechi to serve as Grand Marshall for Equality Utah Pride Festival.

Work Out: New shots of the cast and of the late Doug Blasdell.