Barack Obama receives Secret Service protection, earliest ever in an election cycle: "Two sources said that security concerns, including large crowds and unspecified threats against the candidate, were the reasons for the security detail. But a Department of Homeland Security official said there is no known viable threat against the senator "at this time." The FBI confirmed that there was no specific threat against Obama. According to the DHS, the candidate's campaign requested the security detail, an advisory committee approved that request and the Secret Service initiated the protective detail."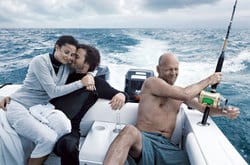 Bruce Willis goes deep sea fishing while Demi Moore enjoys some chicken of the sea.

Beau Clarke, New York philanthropist and partner to DJ Tony Moran has died at age 61: "Clarke was well known on the party circuit as the partner to superstar DJ Tony Moran. The two met in 2000. They shared a large apartment in Soho, a residence in the South Beach section of Miami and a bayfront home in Fire Island Pines that hosted several benefits, including Dancing on the Bay (for the LGBT Center in Greenwich Village), the Zenith Party (to benefit the new Pines community house) and the Fire Island Dance Festival (to benefit Dancers Responding to AIDS). Clarke also gave significantly to GLAAD and Care Resource, Miami's principal AIDS service organization, among other charities. He served on the board of several organizations. He was one of the earliest and biggest backers of the bid by out-gay attorney Sean Maloney to become Democratic candidate for New York State Attorney General last year."

Report: Kelly Clarkson's new album scrapped at last minute after savage reviews from Clive Davis.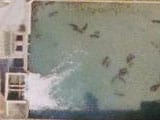 Google Earth photos of Manatees reveal that the 'sea cow' now relies on heat from power plants for warmth rather than migrating to warmer waters.

Anthony Rapp and Adam Pascal to reprise their roles in Rent on Broadway this summer. Rapp: "Yep, it's true. I've always said it would take some extraordinary circumstances to bring me back to the show, (because many people over the years have asked me if I would go back), and I consider the opportunity to be on stage with Adam again to be a big time extraordinary circumstance. In all my years of being in this business, (and we're talking over 25 years now), I've rarely felt the kind of connection on stage that I do with Adam. We just click, and I think it will be amazing to get to work with him in that environment again. The dates we'll be back are July 30th until September 10th. So book your tickets…"

Massachusetts gay rights advocates are seeking help on a national level to defeat the proposed amendment that would ban gay marriage there.

Barbra Streisand UK concert tickets, some going for $1,000, sell out in minutes.

iTunes exclusive track cracks Billboard Top 10 for first time: "The track was "I'll Stand By You" performed by Carrie Underwood during last week's American Idol "Idol Gives Back" charity episode. Macworld reports that the song has been purchased over 100,000 times in less than a week."

Colorado legislature passes bill prohibiting employment discrimination on the basis of sexual orientation. Now, the bill is off to Governor Bill Ritter.

Can culture dictate the way we see the world? "Researchers found that the brains of older East Asian people respond less strongly to changes in the foreground of images than those of their Western counterparts. They suggest this difference is due to an increased emphasis on the background, or context, of images in some Asian cultures. But other experts think the study does not firmly establish culture as the cause for this divergence."

"Living intestine" found off coast of Florida.

Signs of summer: tea dance begins at the Boatslip in Provincetown.