An update on yesterday's disturbing report about what happened to Anthony Niedwiecki and Waymon Hudson when they flew in to Florida over the weekend.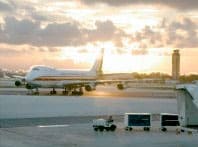 The Broward County Sheriff's Department is looking into the couple's report that someone made homophobic statements over a PA system at the Fort Lauderdale-Hollywood International Airport. According to Niedwiecki, "It was a recorded message and basically said that 'a man who lies with another man as he would a woman is subject to death.'"
Greg Meyer, a spokesman for the airport, told the Miami Herald: "This is such a unique and unusual situation. It's very disturbing to us." Airport officials are looking into the incident, though they say there is no official record of what was broadcast over the PA system. According to Meyer, "Every person has to sign in to use the system. We're working with the company that installed the system."
Ken Keechl, who is the Broward County Commission's only openly gay member, was alerted to the situation. Said Keechl: "This is absolutely unacceptable. And if it is determined that a Broward county employee is responsible for this, that person should be fired immediately."
According to the Herald, "The investigation didn't really get going, the couple said, until they had repeatedly filed reports with the security manager at the airport and called BSO and United Airlines several times."
The Greater Fort Lauderdale Convention & Visitors Bureau, realizing that 8 to 10 percent of the area's visitors are gay or lesbian, has also expressed concern over the incident and has asked for an investigation.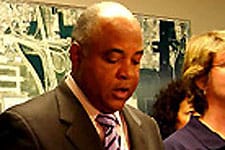 Earlier this afternoon, Broward County Mayor Josephus Eggelletion Jr. held a press conference saying he was determined to find out who was behind the incident.
Said Eggelletion: "We welcome all people of all races … all ethnicities, all religions and sexual orientations. We have a very large gay population, and we are sorry this occurred…We think we can isolate this and find out who did this."
According to the South Florida Sun-Sentinel, "The microphone to the public address system is accessible to the public, but a code must be entered to select the loud speakers on which it is heard. Eggelletion said 400 Broward County employees work at the airport, along with 11,000 people who work for private airlines and other airport-related businesses."
Anti-gay message heard on airport PA system probed [miami herald]
Homophobic Bible verse has Broward mayor apologizing [sun sentinel]