I received an interesting email this morning from Towleroad reader and law professor Anthony Niedwiecki about an incident that occurred at the Fort Lauderdale Airport on Tuesday. He and his partner Waymon Hudson had a jarring experience upon their arrival: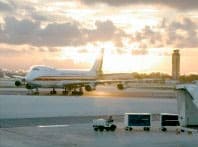 Niedwicki: "At approximately 12:45 am, my partner and I were in the baggage claim area in terminal 3. We had just arrived from Chicago and were waiting for our bags when an announcement came over an intercom. It was a recorded message and basically said that 'a man who lies with another man as he would a woman is subject to death.' We couldn't believe what we heard, and then it came over the intercom again a few minutes later. We were shaken by the announcement because it specifically said 'subject to death'.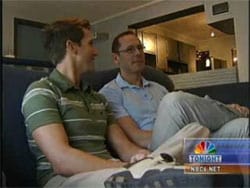 …We called the airport and after five call transfers (including the sheriff's department), we got an airport manager. He seemed disinterested and more interested in the exact bible verse than taking care of the problem. He simply said 'sorry for the inconvenience.' I sent an email to United/Ted (our airline) because I could not get anyone on the phone. I was told by some person at the airport (during my 'phone shuffle' yesterday afternoon) that only airline employees have access to the intercom.
…As of today, I have not heard back from the airport or United. NBC6 news, our local channel, aired a story about this yesterday and today. The airport spokesperson said that anyone could have made the comments, which should give us all pause in a time of terrorism (anyone can use the PA system of an airport?)."
Here's the writeup from NBC6 in South Florida. According to airport representative Steve Belleme, they are attempting to uncover who might be reading passages from Leviticus over the airport intercom: "So far we don't think we can identify the location but that's what we're trying to do."