CIA: Iraq a "big moneymaker" for al Qaeda.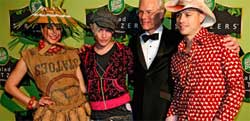 Tim Gunn and Heatherette toss a few salads at the Wish-Bone fashion show.

L.A. Galaxy owner: Beckham investment will be more than recouped by the time he arrives in July. Tim Leiweke: "David Beckham will do more for US soccer than any other activity in the young history of North America's top league. With David coming to play for our team soccer has made a quantum leap in terms of public awareness. His signing created such a huge interest that we should be able to make good on our investment before he even arrives in California in July."

Courtney Love and David LaChappelle hit Mr. Chow. Love jokes: "This is David LaChapelle … and he is not a homosexual."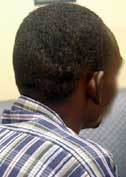 Gay man details persecution in Jamaica, failed attempt to seek asylum in the UK: "People [always] tell me that I walk like a girl. What happened is that a group of men drew me into St Michael's Church, and they used a stone and started knocking me in the head…Then, one of them told his friend to go for his gun to shoot me and throw me in a pit. I was begging for my life and telling them that I was not that (homosexual) and that I was coming from Bellevue. Then they buck up on (found) a letter that the doctor gave me from Bellevue, and they read through it and decided that I was a 'mad bwoy' and decided to let me go."

Cannes Water Lilies director Céline Sciamma comes out of the closet: "Hey, I'm gay. I don't know if I should say this. I always…resent the people who are gay, who could say it, and they don't. So I'm not going to do that. I have to be logical."

Verdict: Liz Taylor can keep Van Gogh looted by the Nazis. "Dame Elizabeth, 75, bought the 1889 work, View Of The Asylum And Chapel At Saint-Remy, at Sotheby's in 1963 for £92,000. She keeps it in her Los Angeles home. The painting, completed by Van Gogh near the end of his life, is estimated to now be worth up to £8 million. The Orkin family sued Taylor for return of the painting in 2004. They are South African and Canadian descendants of Margarete Mauthner, a Jewish woman whose possessions were seized by the Nazis when she fled Germany in 1939. The Orkins claimed the work was among the items confiscated and that it should be returned to them under the U.S. Holocaust Victims Redress Act."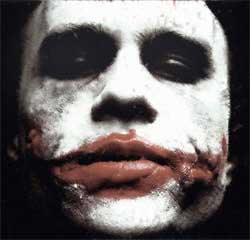 Meth addict or Heath Ledger?

George Michael explains car troubles: "It involves prescribed drugs and it involves a dependency on them and the tendency to chase one drug with another because of side effects."

Presbyterian court upholds anti-gay policies: "The court ruled 8-3 that the presbytery could not call the ordination standards 'an essential of Reformed polity,' but while candidates could disagree with them, they still must adhere to them. The court also voted 11-0 that presbytery could prevent clergy from conducting same-sex marriages as long as they were able to bless same-sex unions, which the church's high court has upheld."

Choose Hillary Clinton's campaign song!

Gay Welsh referee selected for Rugby World Cup: "It's such a big taboo to be gay in my line of work, I had to think very hard about it because I didn't want to jeopardise my career. Coming out was very difficult and I tried to live with who I really was for years. I knew I was 'different' from my late teens, but I was just living a lie."