The U.S. Border Patrol has arrested 26-year-old Glen Douglas Race at the Texas-Mexico border, and he has been charged in the murders of Trevor Brewster and Michael Knott, the Globe and Mail reports.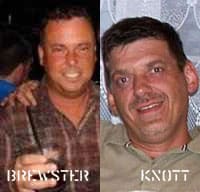 Race has also been charged with the murder of a caretaker at a rural property in the town of Mooers in New York state.
The paper reports: "According to the Halifax police, Mr. Race left his home province in a car belonging to Mr. Brewster, and travelled through New Brunswick and Quebec into the United States. The car, a two-door black 2004 Honda Civic with a rainbow teddy bear decal above the left tail light, has not been located. 'Investigators continue to search for it,' said Halifax Regional Police deputy chief Chris McNeil. 'The location of this vehicle is an important element of our joint investigation. It is critical that investigators determine Mr. Race's activities prior to and after the homicides of Mr. Knott and Mr. Brewster.'"
Police do not yet know what motivated the murders of Brewster and Knott and it remains unknown how well he knew them.