Florida State Representative Bob Allen (R-Merritt Island) said at a news conference that he's not guilty of solicitation charges stemming from an encounter with a male undercover cop in a men's restroom in Titusville, Florida. He vowed to fight the charges, Local6.com reports. (video)
I've transcribed Allen's statement: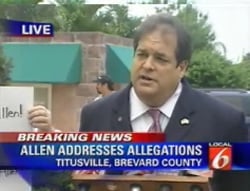 "The political process and the legal process has different communication styles and requirements. As a person in the political arena that is a representative of people, I tend to want to talk about each and every detail, to give a response to each and every item, and let it be known the truth will be coming out. But I have to follow the legal process because I've been put into a legal process…
…I wish this situation to no one or any family. My wife, Beth and I, and my daughter have grown closer in the last 48 hours than we thought imaginable. She is doing the right thing with my daughter in getting her ready for college, and luckily, has sent her support and she will be giving her own statements later. But she wanted to say thank you, thank you, and I say thank you to the numerous supporters that we have had call from around the state. My colleagues in office – senators, congressmen, legislators, and members and citizens across the whole state that I've gotten calls from – especially my district. Their thoughts and prayers have been extended and I tell ya that's the power that it takes to win and fight this battle…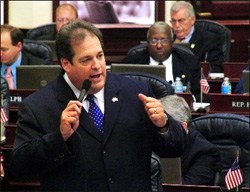 …I am filing a not guilty plea. I am vigorously going to fight this. I am not resigning my office because the people who elected me want me to do a good job and I am going to do a good job for them in finishing this term. Any others, or political shenanigans they try to tell you…other things about this is not. This is an ugly and unpleasant situation that has been thrust on me and my family. It is not true. It is unaccurate, and it is therefore not guilty…and I will be standing strongly for that. And for people who have been standing with me and my family, (tears up) it is appreciated. You've done a good job in trying to get the news out…
…People tend to take the fast news and make fast conclusions. I would ask people not to jump to any conclusions on this. To be fair, and slow down, and look at it. The legal process is slow and makes you look at each individual piece. That's why I cannot answer details today as much as I would like to. And there are many details that they will lose the burden of proof. Thank you."
Allen, the Republican co-chair of John McCain's Florida Presidential campaign, was also the author of failed Florida House Bill #1475, the 'Lewd and Lascivious Behavior Act' which "would have tightened the state's prohibition of public sex."
One more thing: If you're interested in reading the arrest report, here it is.
Previously
GOP Florida State Rep. Allen Charged in Gay Oral Sex Solicitation [tr]
Florida Rep. Bob Allen to Discuss Men's Room Activities [tr]