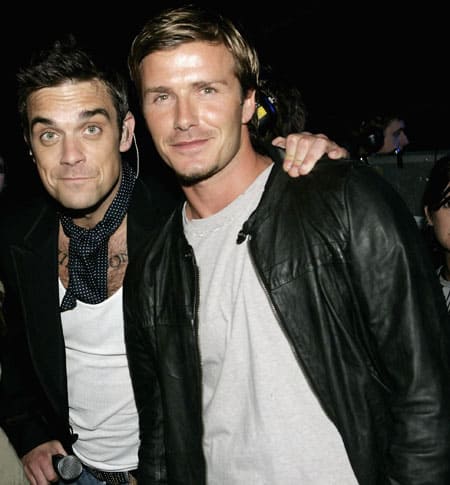 It's the tease of the upcoming television season, and if true, would likely generate as much advance hype as Mario Lopez' backside.
Desperate Housewives creator Marc Cherry has suggested that David Beckham is interested in playing one half of a gay couple that would move on to Wisteria Lane in the upcoming season of Desperate Housewives.
Said Cherry: "David's keen, but the obvious choice was to work with Tom Cruise. We wanted someone who matches him in height and Britishness, so Robbie is the one. They're both funny, game for a laugh and ridiculously macho, so it should work wonderfully. The English are pitch-perfect for sending themselves up."
There has been no confirmation that either Beckham or Williams are signed on to the show, so this all may be a pipe dream from Cherry designed to generate some buzz, or at least to generate reaction from the stars themselves.
Recently, producer Simon Fuller announced that Beckham had committed to a 13-part reality series.
All this may conflict with Beckham's schedule should he ever start doing what he came here for.
You may have missed…
David Beckham to Get Reality TV Series from Simon Fuller [tr]
Robbie Williams Entered Rehab Tortured by Death of Anna Nicole [tr]