Florida Rep. Bob Allen, who was arrested for solicitation in after offering an undercover police officer $20 for the opportunity to perform oral sex, entered a written plea of not guilty in court on Thursday. Neither Allen nor his lawyer were present at the hearing. Court records were released on Wednesday which detailed Allen's explanation following his arrest.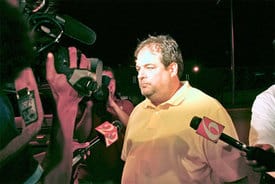 Florida Today reports: "According to the report, Allen said he went to the bathroom to avoid a lightning storm that was about to start. The National Weather Service said there had been inclement weather in the area. The undercover officer went into a stall next to Allen's. Allen knocked on the officer's stall door to ask if he was all right, according to Lau's report. Allen told Lau he was afraid he was going to be robbed and suggested going across the A. Max Brewer Memorial Parkway. 'Mr. Allen stated that he wanted to lure (the officer) with him and ultimately get to the guard shack entrance to the Space Center where there was security,' Lau wrote. 'Mr. Allen claimed he was in fear of (the officer) which is the reason he wanted to have (him) get in the car with him so that Mr. Allen could drive to the security gate.' That route cuts through the Merritt Island National Wildlife Refuge. The nearest KSC gate is about eight miles from the park along a paved two-lane road lined with native Florida brush and wetlands. The Titusville Police Department is about the same distance away. According to Lau's account, Allen did not ask for an attorney until after describing the robbery scenario. But Eisenmenger said the recorded interview indicates Lau knew about Allen's earlier request for a lawyer."
He is set to appear in court on Monday to see if he can have the charges dismissed.
Allen says he sought security of KSC guard post [florida today]
State representative Allen to go to court [tcpalm]
Background
Florida Rep. Bob Allen Apologizes to NAACP [tr]
Lawyer: Resignation Not in the Cards for Florida Rep. Bob Allen [tr]
Rep. Bob Allen Cites Fear of Black Men, Weather in Oral Sex Arrest [tr]
Fla Rep. Bob Allen to Fight Solicitation Charges, Plead Not Guilty [tr]
Florida Rep. Bob Allen to Discuss Men's Room Activities [tr]
GOP Florida State Rep. Allen Charged in Gay Oral Sex Solicitation [tr]