There's a story breaking out of Orlando this morning, where a GOP consultant and two others were found dead in a home.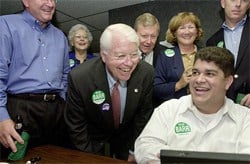 According to the AP, "Authorities have not determined a motive for the deaths of Ralph Gonzalez (pictured, right), 39, his roommate, David Abrami, 36, and a friend, Robert Drake, 30. Investigators found weapons and signs of a struggle in the house, but they did not say what the weapons were or which man they believe was the killer. The men are believed to have died several days before the bodies were discovered Thursday. Gonzalez was executive director of the Georgia Republican Party from 2001-2002. He managed U.S. Rep. Tom Feeney's 2002 campaign and was president of Strategum Group, an Orlando-based political consulting firm that represents Republican candidates. 'He was a born political consultant. He had bravado, he was intense, and he lived and breathed tactics and strategy,' Feeney said. 'He was an adviser and strategist for me and became a very good friend.' Abrami, an attorney, was active in Republican politics as well."
Brad Blog has been following the story and has details on the backgrounds of the men involved.
Florida Today originally ran the story with the above headline ("Lovers' fight may have sparked three deaths"), which I screengrabbed from Google News. All language about a "lovers' fight" has since mysteriously disappeared from the report.
Cops seek motive in deaths of 3 men [orlando sentinel]