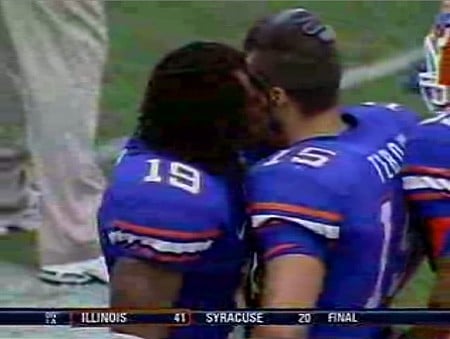 A kiss between University of Florida safety Tony Joiner and QB Tim Tebow on Saturday after Tebow made a second quarter touchdown pass to Cornelius Ingram has startled the college football world. It's not so often you see such a public display of affection between male athletes, particularly American jocks.
Here's the clip: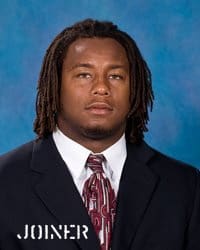 "Tebow and Joiner have had fun with their kiss, though it promises to follow them for eternity now that two clips of it have hit YouTube. A four-second video shows only Joiner smacking Tebow on the left cheek as the CBS broadcast transitions into a commercial break. A 92-second video provides more context, including play-by-play man Verne Lundquist's description of what may have been the first same-sex, interracial kiss ever broadcast on the venerable network's airwaves. 'The African-American senior and Tim Tebow, the white sophomore,' Lundquist said, 'they have become very fast friends.' Told Monday morning that anyone with Internet access could see just how fast, Tebow could only laugh. 'Great,' Tebow said. 'Somebody will probably show me that when I go to class here in a little bit.'"
Joiner, who lives with Tebow, told news media after the game: "That's my roommate. I love him. We've grown close. That's not the first time I've kissed him." When asked if he's kissed other men, Joiner replied, "Not many. Probably just my dad and Tim Tebow."
And there are certainly plenty of people who wouldn't mind planting one on Tebow.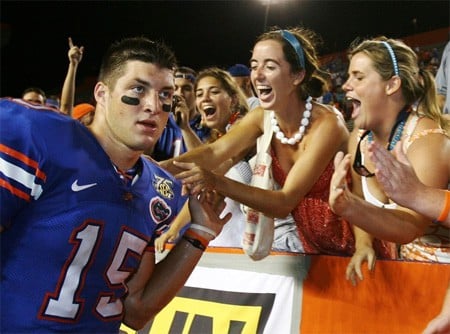 Although who that tongue is reserved for is anyone's guess.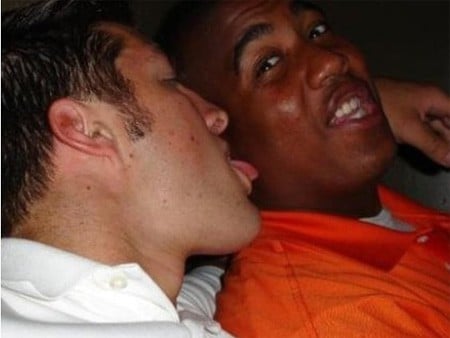 The Independent Florida Alligator notes: "The truth of the matter is we could all learn something from Tebow and Joiner's kiss…The bond that these players share and the fact that they're more emotionally linked as brothers, not mere coworkers, is something to strive for in everyday life."
Notebook: Joiner's kiss gets national exposure [gainesville sun]
Kissing Is Not Foreign To Athletes [tampa tribune]
Smooch has Gainesville ga-ga [florida times-union]
You may have missed…
Go Gaytors [tr]