Andrew Meyer, a student at the University of Florida, was pulled from a microphone by police and led away before being tackled and tasered in front of an auditorium full of students as Senator John Kerry urged the audience to "cool down".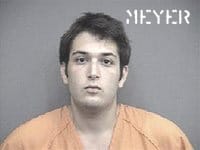 Other students in the auditorium can be heard objecting to the tasering and shouting "police brutality!"
Local 10 reports: "Meyer screams for help and asks "What did I do?" as he tries to break away from officers. He is forced to the ground and officers order him to stop resisting. Meyer says he will walk out if the officers let him go. As Kerry tells the audience he will answer the student's "very important question," Meyer struggles on the ground and yells at the officers to release him, crying out, "Don't Tase me, bro," just before he is Tasered. He is then led from the room, screaming, 'What did I do?' Meyer was charged with resisting an officer and disturbing the peace, according to Alachua County jail records. No bond had been set. Meyer was scheduled to appear in court Tuesday morning, a jail official said."
Says Lane Hudson in the Huffington Post: "He's clearly upset that Bush's Administration is clearly ripping the Constitution to threads, edging towards ANOTHER ill-conceived war, and that Kerry could have stopped it if he had forced the issue on the 2004 voter suppression reports. If more people were this passionate, then we might have a chance at bringing this country back from a state of absolute apathy in the face of corrupt government. This guy made the people in the room feel uncomfortable because of his passion and tough questions. Because of the uber sensitive environment that George Bush's 'free speech zone' society has created, everybody is on edge and thinks that free speech has gone away. I'm not sorry to say that most of America needs a reality check. Serious issues are before us and sober conversation with polite head nodding isn't gonna make anything better."
UPDATE: Meyer to be released by police.
UPDATE: John Kerry released this statement on the incident: "In 37 years of public appearances, through wars, protests and highly emotional events, I have never had a dialogue end this way. I believe I could have handled the situation without interruption, but I do not know what warnings or other exchanges transpired between the young man and the police prior to his barging to the front of the line and their intervention. I asked the police to allow me to answer the question and was in the process of responding when he was taken into custody. I was not aware that a taser was used until after I left the building. I hope that neither the student nor any of the police were injured. I regret enormously that a good healthy discussion was interrupted."
Student from Weston Tasered at John Kerry forum [miami herald]
Andrew Meyer [website]