Florida GOP Rep. Bob Allen, arrested last July after offering a plainclothes police officer $20 for the opportunity to performer oral sex in a public men's room, was found guilty of soliciting prostitution by a jury that deliberated for 3 1/2 hours on Friday.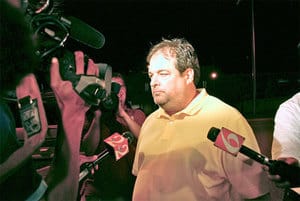 Immediately afterwards, the Orlando Sentinel reports, fellow lawmakers began demanding his resignation.
Said Florida House Speaker Marco Rubio: "This conviction makes it impossible for Rep. Allen to represent responsibly the citizens of his district. Furthermore, it is my personal belief that it harms the reputation of the Florida House of Representatives. We will now take the appropriate steps."
The Tallahassee Democrat reports: "Florida law provides automatic expulsion for legislators convicted of felonies but not misdemeanors. Speaker Marco Rubio, who already stripped Allen of his Energy Committee chairmanship, said the House would act further if Allen didn't resign. Allen listened to the verdict, watched the jury leave and reached into the gallery to touch his wife, who sat behind him all week. 'We're going to continue to seek justice,' Allen said. 'I am innocent; I've done nothing wrong.'
Allen's conviction on the second-degree misdemeanor charge carries a possible sentence of 60 days in county jail and a $500 fine, which prosecutors say they intend to seek. Allen must also now undergo testing for sexually-transmitted diseases, the results of which will be made public.