In December the Florida4Marriage.org Campaign trumpeted that they had reached the necessary 611,000 signatures required to put an amendment on the ballot that would make the state's ban on same-sex marriage permanent.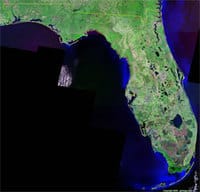 Today, the Department of State announced that they are short by 22,000, according to the Miami Herald:
"Sterling Ivey, a spokesman for Secretary of State Kurt Browning, said the new count revealed that Miami-Dade's election offices had 'double-counted' some 27,000 paper petitions that were turned in prior to January 2006. Florida already bans gay marriage in state law, but organizers are seeking the amendment to ensure the ban is not overturned by a legal challenge. Opponents of the amendment, however, have countered that the measure is more far-reaching and could affect civil unions and threaten benefits for same-sex employees."
It's not all good news. If they find enough bigots, they still may make the deadline, which is February 1st.