Israeli Knesset member Nissim Ze'ev, supporting proposed legislation to ban gay pride parades in the city of Jerusalem, suggested that gays and lesbians should be put in rehab centers to be treated.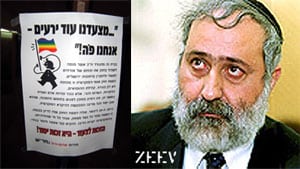 Ynet News reports: "During a heated Knesset debate Sunday, MK Zeev claimed that the proposed legislation was aimed at assisting homosexuals and lesbians who want to start a family. He said that if it was up to him he would put gays in rehabilitation centers 'along with drug addicts and alcoholics'. Zeev went as far as comparing the gay movement to a 'plague that may destroy Jewish Israel', adding that this 'plague" should be dealt with 'just as the Health Ministry is dealing with bird flu.'"
According to Ynet, the proposed law "would enable the Jerusalem Municipal Council to ban gay parades and rallies for considerations of disturbance to public order, offending the public's sensitivities or for religious considerations."
In response, signs were hung in front of the homes of Ze'ev and MK Eli Gabbay by members of Hadash party's "Red-Pink Patrol". The signs read: "In this house lives an MK who is trying to outlaw the citizens' right to march and protest on the streets of Jerusalem," one of the posters read. This anti-democratic bill is targeting not only the homosexual, lesbian, transgender and bisexual communities, but also human and civil rights in general."
Jerusalem's gay pride has been marked by protest and violence in past years. Last year, a man was nabbed by Israeli police prior to the parade for planning to set off a bomb. The city also saw demonstrations by hundreds of Haredim in the days leading up to the gay pride festival. Ultra-orthodox rabbis have also placed curses on those who would participate.