John McCain won the winner-take-all Florida primary, hauling in a load of 57 delegates with 36% of the vote to Mitt Romney's 33%. McCain's victory speech is above, on the left. Rudy Giuliani came in a distant third, with 15% of the vote. His concession speech is above, on the right. Mike Huckabee received 14% of the vote. Giuliani is expected to pull out of the race and endorse John McCain today.
Politico writes: "Rudy Giuliani's distant third-place finish in Florida may put an end to his bid for president, and it seems also to mark the beginning of the end of a period in Republican politics that began on Sept. 11, 2001."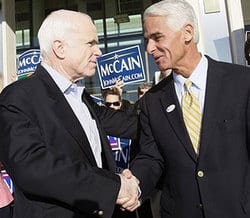 McCain pulled out all the stops in Florida, including a last-minute robo-call that attempted to influence voters through gay-bashing, suggesting that a vote for Romney would be one step closer to giving "special rights" to gays. This will not be forgotten.
The NYT writes: "The meaning of Mr. McCain's victory starts with the trove of 57 delegates it brings him, the bounty of a winner-take-all contest and the biggest prize of the campaign to date. But it also gives him a chance to start persuading his party to put aside the deep internal divisions that have been exposed by the campaign and begin coalescing around him. Mr. Romney was having none of it. He continued to call for change in Washington and got in what sounded like another swipe at Mr. McCain when he said America needed a president who had 'actually had a job in the real economy.'"
Hillary Clinton, with 48% of the vote in Florida, soundly defeated Barack Obama (30%) and John Edwards (14%) in the Florida primary, but receives no delegates. Here's why:
"Florida violated party rules when it moved its voting contest ahead of Feb. 5, the date sanctioned by the Democratic National Committee. The DNC allowed four early contests: Iowa, New Hampshire, Nevada and South Carolina. While Obama, Edwards and Clinton agreed last September that they wouldn't compete for Florida because of the party- imposed penalty, Clinton, a New York senator, last week announced she would press to have Florida's delegates seated at the Democratic convention in August. Florida is a crucial swing state in the general election. None of the candidates campaigned in the state, though Obama aired television commercials that ran on cable channels."
Clinton, looking ahead to Super Tuesday on February 5, appeared on CNN last night and, clearly, wanting to put South Carolina behind her, apologized for her husband's behavior over the past weeks.
Thanks to Talking Points Memo for the video clips.