Illinois state senator Dave Koehler proposes legislation legalizing civil unions in that state. Koehler: "This is going to be controversial because people are going to try to get all other kinds of issues about the morality of being gay. I hope that can stay to the sideline, because that's not the full intent of this bill. This bill is merely to recognize there are long-term committed relationships that right now do not have the law behind them."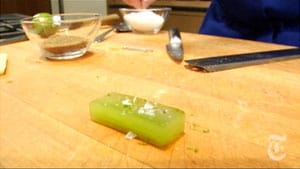 Meet the edible martini: looking pretty good about now.

The History of War told through food, quite literally.

Britain's defense chief pulls Prince Harry from duty in Afghanistan saying media coverage puts him and his fellow soldiers at risk: "Air Chief Marshal Jock Stirrup, chief of the Defense Staff, said he decided to withdraw the prince after senior commanders assessed the risks, the Defense Ministry said in a statement. Harry, third in line to the British throne, has been serving on the front line with an army unit in Afghanistan's southern Helmand province since mid-December. He was originally due to return to Britain within weeks, but 'the situation has now clearly changed,' the statement said."

David Beckham hits South Korea to show off a shiny new phone.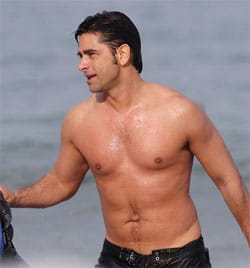 John Stamos takes a kayak break in Hawaii.

UPenn students urge university to examine how FDA's ban on blood donation from gay men conflicts with the school's anti-discrimination policies: "Despite a national blood shortage, millions are prohibited from donating by the Federal Drug Administration's lifetime ban on men who have had sex with men (MSM) since 1977. The FDA argues that this type of sexual activity puts them at a higher risk of contracting sexually transmitted diseases that could be then transmitted through blood transfusions. After a controversial, lengthy debate, the Blood Donor Discrimination Proposal passed by a margin of 17 to 9 with three abstentions, College senior and UA chairman Jason Karsh said. When Lambda Alliance first raised the blood policy issue at a University Council meeting last March, the UC never followed up, said Wharton and College junior, UA member and DP columnist Lisa Zhu, who coauthored the proposal on behalf of the UA. The proposal is an attempt to revive the University-wide debate and "pressure the administration to reevaluate their stance," said Karsh."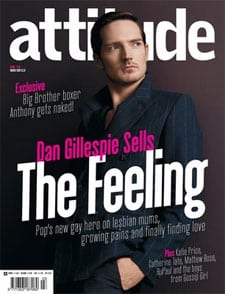 The Feeling's Dan Gillespie-Sells covers the new issue of Attitude.

A look at the new Goldfrapp album, Seventh Tree.

LGBT Latinos unify in support of Obama.

Janet Jackson hopes her drag queen kicks Madonna's drag queen's ass.

More rumors surface about Florida Governor Charlie Crist's sexuality: "I just wish he would come out and admit it. That would be a great thing if he did."

Anti-gay marriage group in Iowa which staged demonstration at the Supreme Court accuses lawmakers of holding up proposed amendment banning gay marriage: "Several legislative leaders quickly denounced the group's claims, calling their tactics hateful. 'I have a problem when people say, 'We are good, they are evil,' House Majority Speaker Pat Murphy, a Dubuque Democrat, said in response to the group. 'The bottom line is, I believe that every person should be treated with dignity and respect in this state.'"

Could Alzheimer's Disease be cured with a 'reset button' for the brain?