Arrests and abuse of gays have become commonplace in Egypt. Similar crackdowns are happening in Kuwait and Morocco (and likely plenty of other places) as well: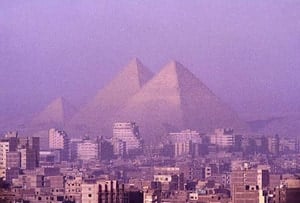 "For three months, the Egyptian police have embarked on periodic sweeps of streets in central Cairo to clear them of presumed homosexuals. The raids, independent observers and human rights activists say, reflect not simply official disgust. They're part of an effort by governments throughout the Middle East to out-moralize Islamic parties that have denounced the perceived depravity of Arab societies under autocratic rule. Homosexuality is not illegal in Egypt, though it is a convenient target, said Hani Shukrallah, executive director of the Heikal Foundation for Arab Journalism in Cairo. 'Meaningless crackdowns have become a regular thing,' Shukrullah said. 'If not gays, devil worshippers. If not devil worshippers, apostates. The government needs to outbid Islamic opponents as guardian of morals.'"
Those who follow this site will remember the post about Egyptians being arrested for being HIV-positive and the tortured they endured. You see, torture and abuse are considered of higher morality than love for another person if that person happens to be of the same gender.
Gays in Egypt besieged by wave of suppression [iht]