Recently out Degrassi star Adamo Ruggiero to host Canadian talent show The Next Star.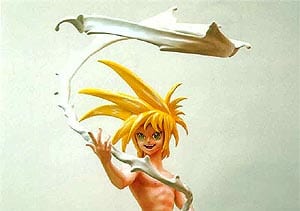 Takashi Murakami sculpture of anime dude ejaculating goes for $15 million at auction: "The winning bid was submitted to Sotheby's by telephone, probably because no one likes to buy this sort of thing in person, even if it's at a classy art auction."

Don't mess with Dolly! Howard Stern alters Parton's audiobook to make her say some disgusting things.

Bee Gees musical to disco up London's West End: "The Bee Gees are still staying alive and, post-Saturday Night Fever, readying another stage attack with a compilation musical based on their greatest hits. Brother Robin Gibb confirmed the status of the project this weekend while unveiling a green plaque at the former London home of the band's manager and producer Robert Stigwood, where they wrote songs including 'Chain Reaction' and 'Heartbreaker'."

It's a slow news day at the BBC.

Wonder Twin messes activate!

Polar Bears declared a threatened species: "Interior Secretary Dirk Kempthorne cited dramatic declines in sea ice over the last three decades and projections of continued losses, meaning, he said, that the polar bear is a species likely to be in danger of extinction in the near future. But Kempthorne said it would be 'wholly inappropriate' to use the protection of the bear to reduce greenhouse gases, or to broadly address climate change."

Robert Downey Jr. showcases the season's hottest accessory.

Stylist Phillip Bloch forcibly removed from Madison Square Garden over mistaken marijuana incident: "Bloch, who had earlier lit a cigarette but quickly stubbed it out unnoticed, had been talking to a group of pot-smoking teenagers in the row behind him who were passing a pipe among themselves. 'The whole stadium smelled like pot, and the kids behind us were smoking. I'm sitting there having fun, laughing,' said Bloch. 'Then I get an order to go with this man. They say, 'You're leaving, give us your ticket.' I held it up, they took it. At that point they grabbed me by my arms to take me out, so I threw my hands up and said, 'You've got to keep off me. I'm no threat." Page Six witnessed three security guards then spin Bloch around and pin him against the corridor wall."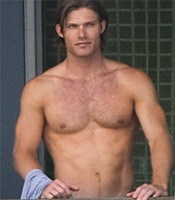 Chris Carmack's new movie should ensure plenty of shots like this.

Gay kiss heats up South African soap opera: "The protagonists were Stone (played by Zenzo Ngqobe) and Thula (Wright Ngubeni). Thula's unemployed mother is bedridden by HIV/Aids, and to make ends meet he is selling his body to a married man. Not even his best childhood pal, Charlotte (Stone's girlfriend) played by Nosipho Nkelemba, knows about the big secret. When Stone confronts Thula about the prostitution, there is an exchange of words and Stone suddenly kisses his friend, Thula. Both are left staring at each other in shock. The kiss did not last longer than five seconds, but is as big a talking point as After Nine – a locally produced short film on black gay men, screened on SABC1 last year."