Remember Florida Rep. Bob Allen who was convicted of solicitation after offering a police officer for $20 to blow him in a public restroom last summer.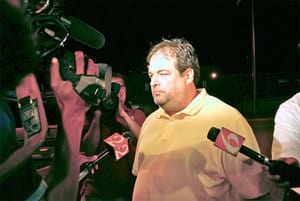 He has launched an appeal:
"After his conviction in July 2007, Allen resigned. Now he is fighting back. He filed an appeal. Wednesday was his day in court. Outside the courtroom Allen and his wife, Beth, did not run from reporters. Allen couldn't say much — his attorney Greg Eisenmenger wouldn't let him, but Beth Allen could. When asked if they were getting good support, Beth Allen replied, 'Absolutely, absolutely. The only negatives are the anonymous cowards on the blogs.' She talked about her upcoming election. Beth Allen is running for supervisor of elections. She talked about her husband. 'I am not a stand by your man kind of woman, under any circumstances. If I thought for a moment he was guilty of that which he was charged I would've dumped him the next day,' said Beth Allen. And when the courtroom doors opened it was time to make the case for Bob Allen's appeal."
Allen's conviction resulted in six months of probation and a $250 fine. Allen's resignation cost taxpayers $400,000.