Greg Mitchell offers a sneak peek into Deborah Solomon's NYT Sunday magazine interview with GOP VP hopeful Florida Governor Charlie Crist, whom many have claimed is gay and closeted. Mitchell notes that Solomon moves in the direction of addressing it, but stops short: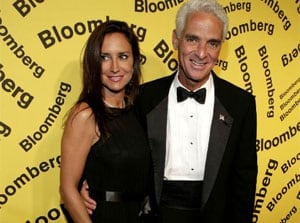 ***
Solomon kicks it off by stating, "Your personal life is not that of a typical Republican candidate. For starters, I hear you're"– [wait for it — "not a property owner." Crist replies, "It is true. I do not own property."
Solomon then moves on to, "You were married nearly 30 years ago, but the marriage lasted less than a year. Do you prefer"– wait for it — "living alone?" Crist: "I got married and divorced because it didn't work out. I haven't found the right one since." Of course, the use of the word "one" will be parsed for days.
"You can't find one woman in all of Florida?" Solomon helpfully asks.
Crist: "Maybe I have. Stay tuned."
***
In late April, it was reported that GOP political strategist Roger Stone was peddling a 'Charlie Crist 'sex tape' with footage of him making out with a woman in an eleavator in an effort to kill the gay rumors. As of yet, that tape has not materialized.