Anti-gay politics continues to drive Donald Wildmon's American Family Association: "According to Wildmon, who has stated that the results from Proposition 8 will determine the outcome of the 'culture wars,' 'If we lose California, if they defeat the marriage amendment, I'm afraid that the culture war is over and Christians have lost. I've never said that publicly until now — but that's just the reality of the fact.'"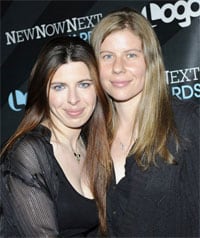 Heather Matarazzo (wiener dog!) to marry her girlfriend Carolyn Murphy. Congrats!

Obama to star in his own comic book.

Brooklyn principal comes out to his students: "'I thought it might fit in with the lesson about paranoia and making assumptions about people just because they are different,' Mr. Michael says of the timing. He had already alerted his staff and invited them to participate in the discussion, which several teachers did. He'd also spoken with Brian Ellner, a senior counselor to Schools Chancellor Joel Klein, and gotten his support. Still, Mr. Michael couldn't help but feel nervous at first."

At Lambeth Conference, gay Nigerian talks of death: "Homosexuality does exist in Africa – it's not a Western thing, as our African bishops would want people to believe."

Tom Cruise and Scientology facing $250 million racketeering lawsuit.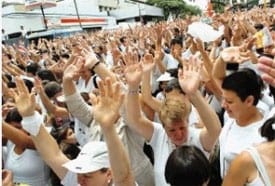 Thousands march against same-sex civil unions in Costa Rica: "The protest march began at 8 a.m. in front of the Hospital San Juan de Dios, and finished around noon in La Sabana park. The march was organized by the Costa Rican Evangelical Alliance, bringing together religious Costa Ricans from around the country. "We're calling out against the law that the Legislative Assembly is considering, to allow for homosexual civil unions," explained march participant, Reynaldo Salazar.

Scientists test 'gym pill': "The researchers have shown that four weeks after administering one drug to mice, the animals were able to run 44% farther than untreated mice, despite not exercising. The finding raises the possibility of treatments for muscle-wasting conditions in humans, but also recreational 'gym pills' that confer a performance gain without the pain."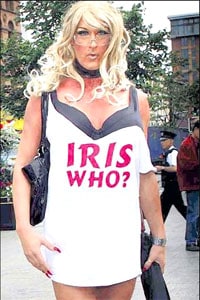 Titty von Tramp comes out against anti-gay Northern Irish politico Iris Robinson: "Titty Von Tramp, Northern Ireland's most famous drag queen, strutted her stuff among SDLP Youth members yesterday at a protest in Belfast against homophobic comments made by the First Minister's wife, Iris Robinson. The demonstration, held outside the City Hall, was held as part of Gay Pride Week which culminates with a parade through the city centre tomorrow followed by a carnival in Custom House Square."

John Mayer looking pumped.

New Mexico 911 operator files suit against Mesilla Valley Regional Dispatch Authority, saying he was harassed about his sexuality, complained, and then was fired in retaliation: "He had worked as a dispatcher since July 10, 2006, according to the suit. He claims he was subjected to disparaging remarks about his sexuality almost immediately after being hired and in front of his co-workers. The remarks allegedly included a disparaging term for homosexuals."

Prosecutors won't seek hate crime charges in brutal anti-gay Dallas attack because men already face maximum penalty: " Bobby Singleton, 29, and Jonathan Gunter, 31, both of Garland, each face a charge of aggravated robbery with a deadly weapon. The first-degree felony carries a punishment of five to 99 years in prison. The men, who have not yet been indicted, are being held in the July 17 beating and robbery of Jimmy Lee Dean, 42. Mr. Dean was kicked and hit with a handgun about 1 a.m. in the 3900 block of Dickason Avenue, near Oak Lawn Avenue, according to a police report. He was hospitalized with serious injuries and was unable to speak to investigators for at least 24 hours, police said. Witnesses told police one of the suspects shouted gay slurs at Mr. Dean during the attack. Investigators also believe the men targeted Mr. Dean because they thought he was gay, police said.", Gym Pi