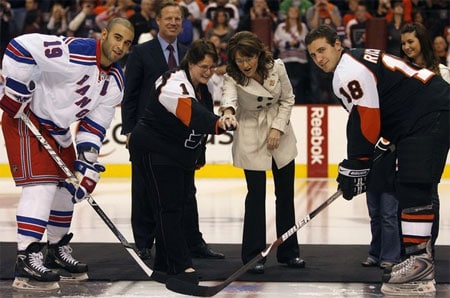 America's best-known "regular hockey mom" Sarah Palin was not offered the warmest welcome from the crowd at the Flyers-Rangers game in Philadelphia where she dropped the ceremonial first puck on Saturday, flanked by New York Rangers assistant captain Scott Gomez and Philadelphia Flyers captain Mike Richards.
ABC's Jake Tapper notes that the moment was made less embarrassing by "healthy applause and deafening PA music."
FOX News assured the boos were edited out.
The moment was reminiscent of Bush's first pitch at the Washington Nationals' season opener earlier this year.
Watch and listen, AFTER THE JUMP…