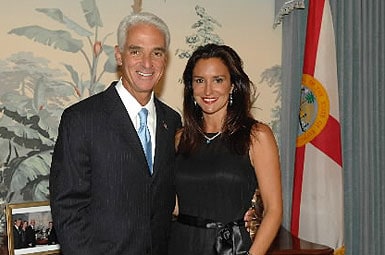 The Tampa Bay Tribune had a recent interview with Florida Governor Charlie Crist, and asked him if he was nervous about getting married, and what he thought of plans by gay activists to picket the wedding because of his endorsement of Florida's Amendment 2, which recently banned same-sex marriage in the state.
Q: Gay rights activists are planning to demonstrate outside your wedding and reception to protest the gay marriage ban that passed in Florida on Nov. 4 after you endorsed it. Your response to them?
A: I really don't have one. They have a First Amendment right to do so.
Q: The big event is only nine days away. Any pre-wedding jitters?
A: No, no jitters. No jitters! No — I'm ready.
Crist is to marry beard manufacturing heiress Carole Rome on Friday, December 12th. The protest is scheduled to begin at 11am at the First United Methodist Church of St. Petersburg, 212 Third Street North, St. Petersburg, Florida, although the wedding is at 7 pm, so that might change.
A copy of the wedding invitation, AFTER THE JUMP…