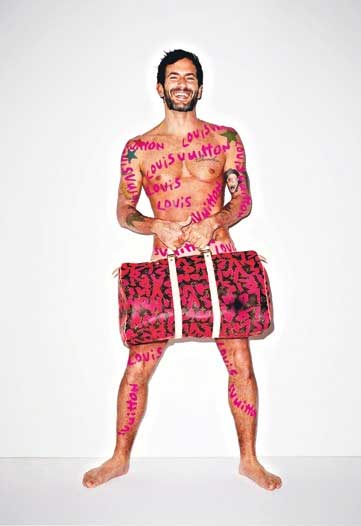 Marc Jacobs, who has designed a line of items for Louis Vuitton in honor of the late designer Stephen Sprouse, shows off the concept in a nude photo for Harper's Bazaar shot by Terry Richardson.
WWD reports: "Marc Jacobs and Louis Vuitton are paying homage to Stephen Sprouse. To show their admiration for the late designer and artist, next month, Jacobs, Vuitton's creative director, is using his hit 2001 collaboration with Sprouse for a new, limited edition collection of accessories and ready-to-wear. Jacobs even doffed his duds again, posing in the nude painted in Sprouse's graffiti for Harper's Bazaar's January issue."
Louis Vuitton will also carry a limited edition version of The Stephen Sprouse Book
, which arrives in January 2009.