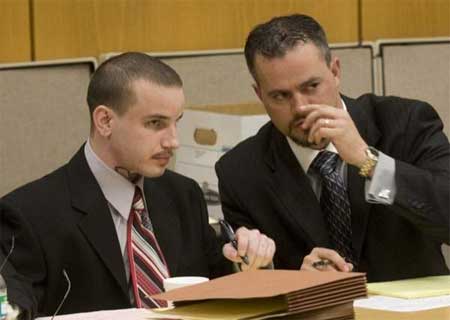 Testimony began yesterday in the murder trial against Joseph Bearden, one of two defendants in the 2007 murder of Ryan Keith Skipper. Bearden, then 21, and William David Brown Jr., then 20, were indicted in 2007 on charges of first degree murder and robbery with a deadly weapon. If convicted, both could face the death penalty.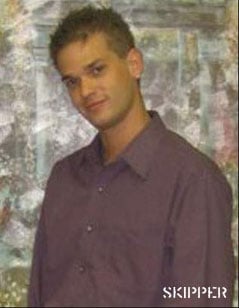 Skipper's body was found by the side of a rural road in central Florida with more than 20 stab wounds. His car and laptop had been stolen. The car was abandoned and recovered by authorites, who reported that the assailants had attempted to set it on fire but did not succeed. They had also cut out a seat belt because it was so bloody they couldn't clean it.
A witness told investigators in March 2007 that Skipper's sexuality was the motive.
The Ledger reports: "Investigators have said Bearden made derogatory remarks to others about Skipper's being gay. But in opening statements, prosecutors focused on the robbery of Skipper as the motive for the killing. Wearing a black suit, Bearden conferred quietly with his two lawyers. During opening statements, defense lawyers hinted Bearden would take the witness stand. Since his arrest, Bearden has gotten numerous tattoos. A teardrop appeared to drip from his right eye. Large markings decorate the areas above and below his left eye. Others peeked out from the collar and cuffs of his gray dress shirt. Assistant State Attorney Cass Castillo told jurors Skipper was killed on a dark, secluded stretch of rural roadway. The prosecutor noted some of Skipper's blood was left behind inside his car. But the largest amount was on the roadway, showing the most severe injuries were inflicted outside the vehicle, Castillo said. Skipper's wounds included deep cuts to both sides of his neck, and multiple stab wounds to his shoulder and back, he said. After the killing, Bearden and Brown drove away in Skipper's vehicle, Castillo said. He said fingerprints found on the car included Skipper's, Bearden's and Brown's."
Pat and Lynn Mulder, Skipper's parents, have been outspoken about anti-gay hate crimes since their son's death. They recorded a PSA and also submitted a question to the YouTube debate during the presidential campaign that was not made part of the debate.
Watch both clips, AFTER THE JUMP…
Background
Pat and Lynn Mulder Take Spotlight to Fight Hate Crimes [tr]
Parents of Hate Crime Victim Submit YouTube Debate Question [tr]
Florida Hate Crime Vigils Held for Gay Murder Victim [tr]
Florida Men Indicted for Murder of Gay Man [tr]
Two Held in Brutal Murder of Gay Florida Man [tr]