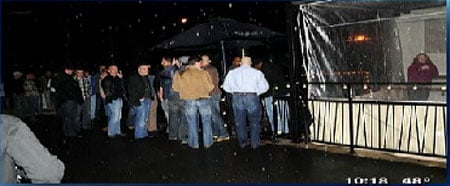 A "guerrila gay bar" event has put the focus on a Houston nightclub after gays who came to participate were forced to stand in line in the rain and never admitted while the club ushered in straight patrons instead, according to a press release from the Houston LGBT caucus.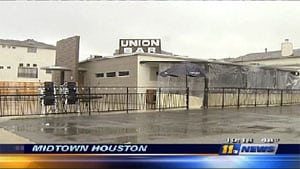 These types of events are typically "stealth"  activist events meant to force interaction between gay and straight people in a harmless social setting. This one was not stealth, however. Organizers had sought permission from the club's owner beforehand. The bar owner of Union Bar and Lounge in midtown had told them they would be welcome.
That wasn't the case, apparently. Attendees claim that gays were told to wait outside in the rain while straight clientele was ushered inside (link to PDF):
"Nearly 100 gay, lesbian, bisexual and transgender people were refused entry to Union Bar and
Lounge in Midtown Friday while others were welcomed. Patrons started lining up at about 9:40 p.m. and were told to wait in line and not allowed inside, even as straight-appearing people were waved through. As the line grew and patrons waited in the rain, employees at the door told those who were that they were maintaining a "ratio." Later, the bar employees simply indicated they had the right to refuse anyone. A patron who arrived at the bar early reported that the bar was nearly empty at about 9:40 p.m., when gay people started arriving and were stopped at the door.  Gay people continued to line up to the street and around the corner as people who appeared to be straight went to the front and were ushered in. Kris Banks, who stood at the front of the line, said the bar employees were asking the women who were entering with men if the men were accompanying them. If the men were with the women, they were allowed in."
Said Lindsey Dionne: "I arrived and heard that they were not allowing gay men in, so when I got to the door with three women I asked if we would be allowed in, and the door employee said 'I was told to keep you out.' This was supposed to be a social event, but now it's political."
The bar owner denies the charges, saying the bar was at capacity. KHOU Houston report here.
A bill was recently filed in the Texas House that would prohibit discrimination based on sexual orientation.
We Will Not Go There [facebook]