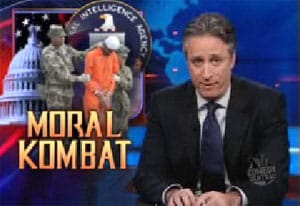 After a short discussion about Obama's flip-flop on the release of detainee photos, Jon Stewart nails Obama on his campaign promises over "Don't Ask, Don't Tell" and his refusal to stop discharges of gay troops, specifically the firing of gay Arabic linguist Dan Choi.
Says Stewart: "So it was okay to waterboard a guy over 80 times, but God forbid the guy who could understand what that prick was saying….has a boyfriend.
Watch it, AFTER the JUMP….
Also, here's an update on the case of Sandy Tsao, the Chinese American Second Lieutenant in the U.S. Army, based in Missouri, who received a personal letter from Obama promising to change the military's policy. Tsao will be discharged next Tuesday.