California Governor Arnold Schwarzenegger has only signed three bills this legislative session, according to the San Francisco Chronicle, and more than 700 others, including the 'Harvey Milk Day' bill, could be rejected in one fell swoop: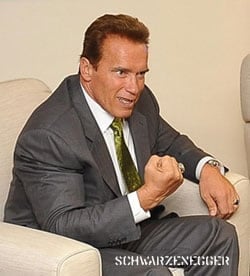 "The governor has made a veiled threat to issue a mass veto unless
lawmakers reach agreement on an overhaul of the state's water system. A
mass veto, legislative leaders said, would be both 'silly' and
inexcusable, and it would effectively wipe out nearly all the work done
by the Legislature the past 10 months. … Assembly Majority Leader Alberto Torrico, D-Fremont, called on Attorney
General Jerry Brown on Tuesday to investigate the governor, saying his
veto threat amounted to extortion…Still on [Schwarzenegger's] desk are bills that would provide $400 million owed to 500
schools in the state, increase federal funding to hospitals by $2.3
billion and create stricter rules for mortgage lenders, among hundreds
of others. More controversial proposals include designating a day to
honor slain San Francisco Supervisor Harvey Milk and restrictions on
the sale of ammunition, and a phasing out of gun shows at the Cow
Palace."
Schwarzenegger's deadline to sign or veto the 700+ bills is midnight on Sunday.