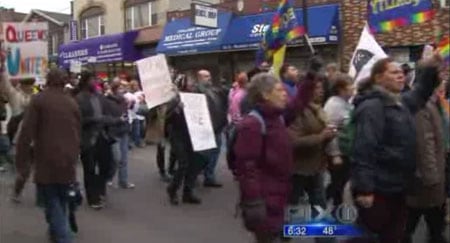 Several hundred people rallied against hate in the NYC neighborhood of College Point, Queens in support of beating victim Jack Price, who was attacked last weekend by two men after leaving a corner deli.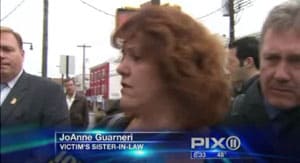 Edge reports: "Price's sister-in-law, Joanne Guarneri, marchedarm-and-arm with City Council Speaker Christine Quinn, CongressmanAnthony Weiner, City Comptroller William Thompson, Jr., Queens BoroughPresident Helen Marshall and other politicians, activists and localresidents down College Point Avenue. She also spoke at a rally at alocal park. 'They [Aleman and Rodriguez] nearly beat mybrother-in-law to death for $10 and a pack of cigarettes,' Guarnerisaid. 'We have to stop violence in College Point. We have to take backour streets.' Amanda Guarneri echoed her mother's anger before she and other members of her family marched. 'They[Aleman and Rodriguez] are a disgrace,' the 15-year-old told EDGE. 'They should be locked up forever. I wouldn't wish this on my worstenemy.'"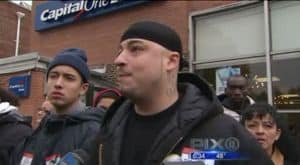 Also, among those at the rally, a group of counter-protesters (below) rallying in support of the gay bashers. The small but vocal group included the thug (right) with the homophobic Leviticus tattoo who spoke out the other day. According to WPIX, the group claims that there was no hate crime and Price's attackers, Daniel Aleman and Daniel Rodriguez, who were caught on tape violently beating their victim, "are the victims of a media lynching."
The NYDN reports: "More than a dozen Rodriguez supporters, some holding signs saying"Free Danny," watched the rally from behind police barricades acrossthe street. 'This whole rally is so pathetic,' said CamelisseKiana, 15, a friend of Rodriguez. 'I don't think this is a hate crimebecause he doesn't have nothing against gay people.' Price told the Daily News Friday the two men peppered him with anti-gay slurs during the attack."
Writes Joe Jervis: "I've never seen counter-protesters at an anti-bashing rally. I don't know what it means. It worries me."
Watch the WPIX news report, AFTER THE JUMP…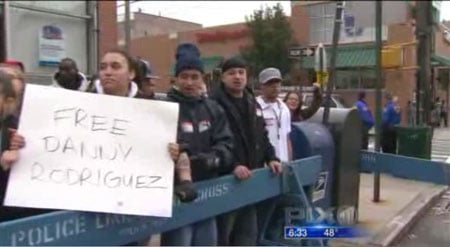 Marisa Ragonese, director of Queens LGBT youth drop-in center Generation Q, speaks (via Father Tony – and you can find more of his video here):