A judge reduced charges of kidnapping and attempted murder against two Kentucky teens accused of threatening to push a lesbian classmate off a cliff and smash her head with a rock, saying there wasn't enough evidence to justify felony charges: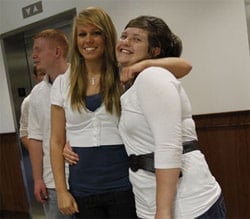 "After a hearing Thursday, District Judge Henria Bailey-Lewis reduced the charges against Ashley Sams and Corinne Schwab to fourth-degree assault and menacing, both misdemeanors…Attorneys for the two had strongly denied the attack and said the girls were pleased the judge reduced the charges.
'I think justice was served,' said Richmond attorney James Baechtold, who represents Schwab.
Sams and Schwab committed no crime and will fight the misdemeanor charges, their attorneys said.
The two high school seniors and their families declined to comment as they left court with a large number of supporters."
Jordan Palmer, the head of the Kentucky Equality Federation says he is still convinced it was a hate crime.
More details on testimony about the crime at the Lexington Herald Leader.