You may recall a homophobic attack last October on Liverpool police trainee James Parkes which left him in critical condition in the hospital with multiple skull fractures, and a fractured eye socket and cheek bone. He spent weeks in the hospital. Fifteen youths were arrested in the attack on Parkes, which happened as he left a gay nightclub in Liverpool.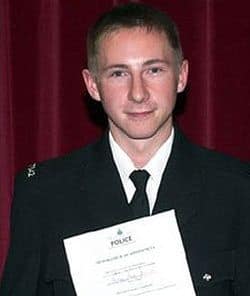 Today, the police announced that there is not enough evidence to charge any of them:
"Detectives arrested 15 youths during the inquiry but the Crown Prosecution Service (CPS) has now decided there is insufficient evidence to charge them.
Two of the boys, aged 15 and 16, have had their bail cancelled.
Detectives are now reviewing evidence in the case and say some of the other 13 suspects may now be re-interviewed. 'The investigation into the assault is ongoing and all the evidence is being reviewed,' said a force spokeswoman.
'As a result of this review, it might be necessary for the police to re-interview the same suspects or other people in connection with the incident. Further lines of enquiry will be sought and every effort is being made to bring those responsible for this attack to justice. Homophobic hate crime is unacceptable and Merseyside Police continue to work hard to ensure that any offenders are bought to justice.'"