The office of Florida Attorney General Bill McCollum, for whom George Alan Rekers testified in the state's case seeking to uphold the ban on gay adoption, has released a statement: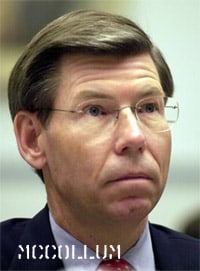 "As hired counsel for the Florida Department of Children and Families, our office is committed to providing our client with the best possible legal representation in this matter.
Dr. Rekers, a professor emeritus from University of South Carolina and a neuropsychologist with a degree from UCLA, came to our attention by recommendation from another academic after an exhaustive search for potential expert witnesses who were willing to testify. Dr. Rekers had exceptional credentials and he had provided testimony in similar cases on two separate occasions, one of which was a Florida case in Federal Court.
The contract was executed at the direction of the Department of Children and Families, and the ACLU did not object to his position as an expert at the hearing. He has completed his testimony and is no longer involved in this case."
As Scott Maxwell of the Orlando Sentinel notes, the statement does not address the question of how Rekers could possibly be a credible witness.
Maxwell also points us to some new revelations from Equality Florida, that Rekers was not paid $87,000 in taxpayer money as originally reported, but a much higher amount of $120,000.