DRAMA
OUTSTANDING DRAMA
Lost
Breaking Bad
Dexter
Mad Men
True Blood
The Good Wife
OUTSTANDING ACTRESS IN A DRAMA
Julianna Margulies (The Good Wife)
Mariska Hargitay (Law & Order: Special Victims Unit)
Glenn Close (Damages)
Kyra Sedgwick (The Closer)
January Jones (Mad Men)
Connie Britton (Friday Night Lights)
OUTSTANDING ACTOR IN A DRAMA
Jon Hamm (Mad Men)
Kyle Chandler (Friday Night Lights)
Bryan Cranston (Breaking Bad)
Hugh Laurie (House M.D.)
Michael C. Hall (Dexter)
Matthew Fox (Lost)
OUTSTANDING ACTOR IN A DRAMA
John Slattery (Mad Men)
Aaron Paul (Breaking Bad)
Martin Short (Damages)
Terry O' Quinn (Lost)
Michael Emerson (Lost)
Andre Braugher (Men of a Certain Age)
OUTSTANDING SUPPORTING ACTRESS IN A DRAMA
Sharon Gless (Burn Notice)
Christine Baranski (The Good Wife)
Christina Hendricks (Mad Men)
Rose Byrne (Damages)
Archie Panjabi (The Good Wife)
Elisabeth Moss (Mad Men)
COMEDY
OUTSTANDING COMEDY
Glee
Modern Family
Curb Your Enthusiasm
Nurse Jackie
30 Rock
The Office
Curb Your Enthusiasm
OUTSTANDING ACTRESS IN A COMEDY
Lea Michele (Glee)
Tina Fey (30 Rock)
Toni Collette (The United States of Tara)
Julia Louis-Dreyfus (The New Adventures of Old Christine)
Edie Falco (Nurse Jackie)
Amy Poehler (Parks and Recreation)
OUTSTANDING ACTOR IN A COMEDY
Larry David (Curb Your Enthusiasm)
Alec Baldwin (30 Rock)
Matthew Morrison (Glee)
Steve Carell (The Office)
Jim Parsons (The Big Bang Theory)
Tony Shalhoub (Monk)
OUTSTANDING SUPPORTING ACTOR IN A COMEDY
Chris Colfer (Glee)
Neil Patrick Harris (How I Met Your Mother)
Jesse Tyler Ferguson (Modern Family)
Jon Cryer (Two and A Half Men)
Eric Stonestreet (Modern Family)
Ty Burrell (Modern Family)
OUTSTANDING SUPPORTING ACTRESS IN A COMEDY
Jane Lynch (Glee)
Kristen Wiig (Saturday Night Live)
Jane Krakowski (30 Rock)
Julie Bowen (Modern Family)
Sofia Vergara (Modern Family)
Holland Taylor (Two and A Half Men)
REALITY
OUTSTANDING REALITY SHOW HOST
Ryan Seacrest (American Idol)
Phil Keoghan (The Amazing Race)
Tom Bergeron (Dancing with the Stars)
Heidi Klum (Project Runway)
Jeff Probst (Survivor)
OUTSTANDING REALITY SHOW COMPETITION
Project Runway
Top Chef
The Amazing Race
Dancing with the Stars
American Idol
VARIETY, MUSIC, OR COMEDY
OUTSTANDING VARIETY, MUSIC, OR COMEDY SERIES
The Colbert Report
The Daily Show With Jon Stewart
Real Time With Bill Maher
Saturday Night Live
The Tonight Show With Conan O'Brien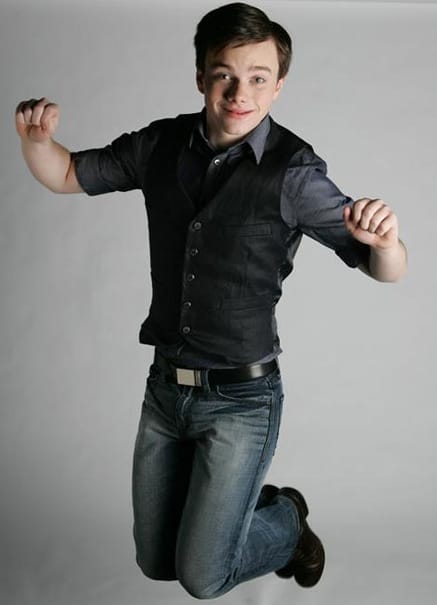 Good news for Colfer: A nomination. Bad news: The competition.
The nominations for the 62nd Annual Emmy Awards were announced this morning. Interestingly, almost half the shows nominated for Outstanding Drama or Outstanding Comedy are first-time nominees.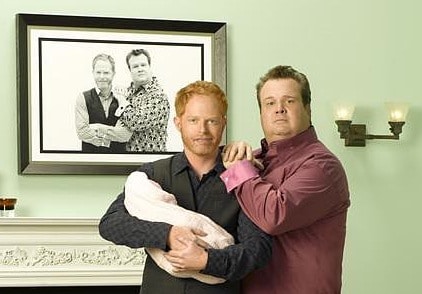 Duking it out in the same category…please keep it classy for Lily's sake.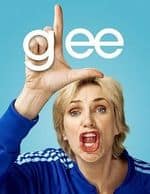 Gay actors Jane Lynch and Chris Colfer were nominated for their supporting work on Glee, while out actor Jesse Tyler Ferguson and gay-for-pay Eric Stonestreet were tipped for their supporting work as a gay couple on Modern Family. Neil Patrick Harris was again nominated for How I Met Your Mother. Colfer vs. Ferguson vs. Stonestreet vs. Harris? Tough call. (Jon Cryer for Two and a Half Men and Ty Burrell from Modern Family round out the supporting category for the men.)
Lynch was also nominated for Outstanding Guest Actress in a Comedy Series for appearing on Two and a Half Men, but she's up against Betty White for her SNL gig. White's chances seem golden.
Colfer has already thanked fans for their support via Twitter.
Full list of the major categories is after the jump. Who, if anyone, are you rooting for? Who, if anyone, do you think wuz robbed?