An historic day in the Land of Lincoln!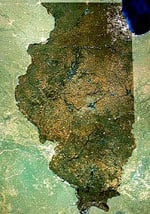 Following passage in the House yesterday, the Illinois Senate has passed the civil union bill in a 32-24-1 vote. 
From Lambda Legal:
"The Illinois General Assembly passed the Illinois Religious Freedom Protection and Civil Unions Act, establishing legal protections for same-sex couples across the state.
"Same-sex couples in Illinois, many together for decades, will finally have the legal protections to take care of each other and their children," said Jim Bennett, Regional Director of Lambda Legal's Midwest Regional Office in Chicago. "Same-sex couples and their families faced a range of barriers to things that other couples take for granted, including spousal health benefits and hospital visitation – the goal of this law is to correct those problems. While all couples deserve the right to marry, all of us in the Land of Lincoln can be proud of this important step forward."
The Illinois Religious Freedom Protection and Civil Unions Act, first introduced by Representative Greg Harris in March 2007, and in the Illinois Senate by Senator David Koehler, passed 61-52 in the House on Tuesday and 32-24 in the Senate today. The new law includes provisions for hospital visitation and healthcare decision making.
Lambda Legal's staff provided extensive legal analysis and drafting assistance for the Act approved today, as well as public education and legislative advocacy pressing for its passage.
Chicago Pride has a good wrap-up of the vote, adding this:
"State Sen. and Rev. James Meeks (D-Chicago), who is running for Chicago Mayor, was the only Democrat to cross party lines to vote against the bill. State Sen. Ira Silverstein (D-Chicago) is the only senator who voted present. 'I believe in the sanctity of marriage between a man and a woman, and that was the impetus behind my vote,' Meeks told reporters after the vote. The prominent south side minister maintains a contentious relationship with Chicago's LGBT community over his anti-gay stance."
Meeks, you may recall, said in September that he would address gay rights as mayor if he got bored enough.
Governor Pat Quinn has promised to sign the bill.