Late Friday night Aaron Scheerhorn (pictured) was stabbed multiple times outside Club Blur, a popular nightclub in Houston's gay Montrose district, the Houston Chronicle reports: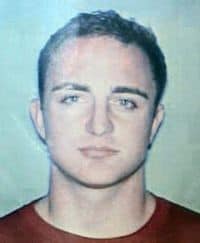 Authorities, who are still investigating the motive, said the killing could possibly be a crime of passion. Police have determined that it wasn't a robbery or hate crime.
"It was brutal," said Houston homicide Sgt. W. Meeler.
The suspect pursued Aaron Scheerhoorn on foot in the 800 block of Hyde Park Boulevard late Friday. Scheerhoorn had already been stabbed once when the pair arrived on the front steps of Club Blur on the corner of Pacific and Crocker around 11:40 p.m.
The suspect proceeded to stab Scheerhoorn several more times, including wounds to the chest, abdomen, forearm, left side and hand, authorities said.
"In front of numerous patrons, he commenced to stab him several times," HPD Homicide Detective Sgt. Eli Cisneros said. Scheerhoorn collapsed in the parking lot. He was transported to Ben Taub Hospital, where he died.
Authorities are still looking for the suspect: "The suspect has been identified as a tall, black man between the ages of 25 and 30. He's between 6 and 6½ feet tall and weighs about 200 to 225 pounds. He has short hair and was wearing a fitted orange or burgundy sweater with dark pants and dress shoes at the time of the slaying, police said."
I haven't been able to find specific confirmation of Scheerhorn's sexual orientation.
Watch ABC13's report on the murder, AFTER THE JUMP…