The Atlanta Eagle and the Atlanta Police Department have agreed on a settlement which is reportedly just above $1 million, according to WSBTV,  for the September 2009 raid on the Eagle bar during which patrons and employees were ordered to the ground and searched while being called derogatory, anti-gay names.
The Atlanta Journal-Constitution reports: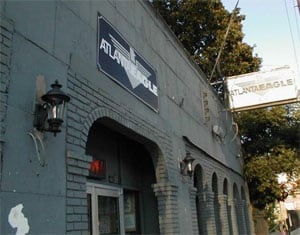 Dan Grossman, representing the plaintiffs, confirmed the agreement but could not comment on specifics per the instructions of federal Magistrate Judge Alan J. Baverman. The city will pay an unspecified monetary settlement as well as oversee reforms within the police department — a victory for the petitioners, based on their stated goal when the civil rights suit was filed in November 2009.
"It's unfortunate we need a federal judge to make our police department follow the law," Grossman said at a news conference announcing the suit, filed on behalf of 19 Eagle patrons against the city, former Police Chief Richard Pennington and 48 of his officers, including members of the department's Red Dog unit. "Since [police] don't think they did something wrong they're going to do it again."
The settlement has to be approved by the Atlanta City Council and neither side can comment until the deal is finalized.