Nine people arrested after stabbing in Manchester, UK's gay village.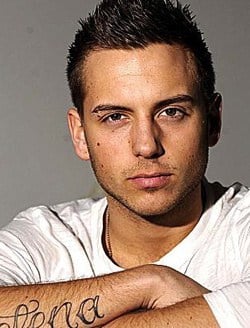 Out Swedish footballer Anton Hysen talks to Brit tab The Sun: "It is sad no one has the guts to come out. I respect the fact we all deal with situations in a different way and I joke about the situation. When we are in the showers, I obviously say stuff like 'Don't drop the soap'. I really don't care. When I walk into the dressing room I say 'Watch out, he's here' – but I know they respect me. And I respect them."

Can Ewan McGregor get any more adorable?

Gay U.S. District Judge nominee J. Paul Oetken breezes through confirmation hearing.

Orlando Bloom dons a wig, does so man-to-man kissing on a Spanish talk show El Hormiguero.

NYT profiles filmmaker behind gay cult classic Pink Narcissus, which is being rescreened at IFC this month: "Bidgood moved to New York in 1951, working as a female impersonator and taking photographs for men's physique magazines like Muscleboy and Adonis. 'There was no art,' Bidgood laments. 'They were badly lit and uninteresting. Playboy had girls in furs, feathers and lights. They had faces like beautiful angels. I didn't understand why boy pictures weren't like that.' Bidgood's first series showed a man swimming through a shimmering undersea cave, which he built in his living room."

Biophilia: Björk announces new album!

Photo: Britney shooting Till the World Ends video.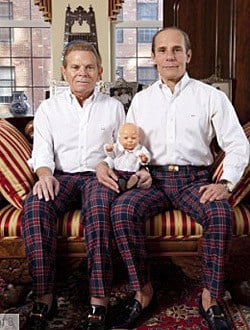 "Mark Kirby and A.J. Sapolnick decided to 'adopt' Digby for the same reason other couples decide to have kids or adopt children."

Playgirl's Daniel Nardicio apologizes to Calvin Klein boytoy Nick Gruber. 

Roommate hell story of the week: the Lo-Mein scarecrow sex doll.

NYC's 250th St. Patrick's Day parade shuts out gays once again. But doesn't shut us up: "On Thursday about 20 protesters wearing everything from green hats to green make-up chanted 'shame! shame!' as police in dark blue marched by. The gay activists even brought their own band, a lively eight piece ensemble including a trombone and accordion, to compete with the huge bagpipe-and-drum groups thundering up Manhattan. When police passed, the music got louder and the placards went higher. When the Irish American police commissioner, Raymond Kelly, passed, protesters hit fever pitch."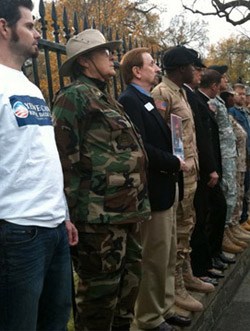 Judge questions charges against 13 activists arrested on White House fence: "Judge Facciola got up out of his chair, while pacing, gave a speech about the history of the civil rights movement in the United States. He intimated that there were trumped up charges back in the 50s and 60s, too."

Battling back against the NYT paywall: "The Times scheme allows readers 20 free stories per month before they have to pay. However, if you come in via Twitter or Facebook, reading the story doesn't count against your total. So, cheapskates, meet @freenyt, a three-hour old Twitter feed that intends to tweet all the Times stories."

Scottish government advised to legalize same-sex marriage.

Delaware Supreme Court confirms lesbian mom as parent: "The Delaware Supreme Court issued a ruling March 14 upholding the right of a woman to be identified as a 'de facto' parent of a child she had been raising with her former same-sex partner—a child the partner adopted but that the woman herself did not. The ruling was based on the amending of a state law to expand the state's definition of a "parent" to give full, equal rights to lesbian and gay parents who may not have biological or adoptive ties to their children."