Obama mum on death of Maryland marriage equality bill.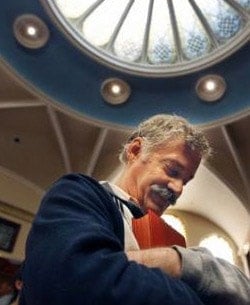 Methodist pastor to risk de-frocking and bless same-sex unions.

Gilbert Gottfried fired as AFLAC duck after offensive Japan tweets: "Gilbert's recent comments about the crisis in Japan were lacking in humor and certainly do not represent the thoughts and feelings of anyone at Aflac," said Michael Zuna, senior vice president and chief marketing officer, in a statement today from the Columbus, Georgia-based insurer.

Iowa Republicans and wingnuts focus on ousting marriage equality's biggest legislative advocate, Senate Majority Leader Mike Gronstal: "Chuck Hurley, head of the conservative Iowa Family Policy Center, agreed, calling Gronstal's election defeat 'a very, very high priority. It's our top issue.'"

Beaked whales disturbed by Navy sonar: "Measuring their reactions to both simulated sonar calls and during actual naval exercises, researchers found the whales fell silent and moved away from the loud noises. The use of sonar for naval communication has been linked to beaked whales stranding in the past."

Larry King to join The Daily Show? "The possibility has been discussed."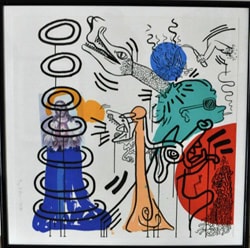 Tyler Cassity, co-owner of the Hollywood Forever cemetery, donated 10-piece set of Keith Haring prints to the L.A. Gay & Lesbian Center. This is one of them.

Ryan Gosling and his best friend head to Ann Arbor.

New study: Cheerful optimists die younger than grumpy pessimists. "Part of the explanation lies in studying the health behaviors of the study subject — the cheerful, happy-go-lucky kids tended to take more risks with their health across the years, Friedman explained."

Kristin Chenoweth is ready to play a good Christian bitch.

Harvard hosting anti-gay, anti-Islam leaders at April 1 conference.

Blabbeando's Andrés Duque interviews Jennifer Lopez.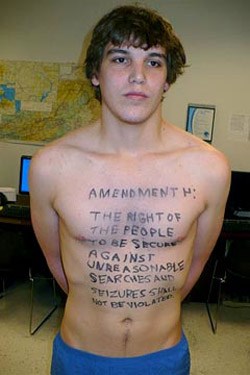 College student Aaron Tobey sues U.S. government for violation of Fourth amendment following strip protest at airport: "The defendants listed in his legal filing are Homeland Security Secretary Janet Napolitano, the head of the U.S. Transportation Security Administration, the Richmond airport authority and several security officers there. He's seeking $250,000 in damages and reimbursement for legal fees."

Bullying may have been at root of Rittman, Ohio teen's suicide.

Joe Jonas and companion shop with his humpy bodyguard.

Hey kids, lip-dubbing isn't anything new – there were all-stars doing Mariah Carey back in 1991.

Robert Pattinson has a diaper-wearing stalker.

14-year-old Jersey City teen arrested for cyber-bullying 12-year-old boys on Facebook: "He sent Facebook messages to the victims that called them "gay," "fat," and "a punk," according to acting Essex County Prosecutor Carolyn Murphy. He also threatened to kill and hurt them, prosecutors said."