Million Dollar Listing real estate agent Josh Flagg is gay and will make it known to viewers of his Bravo reality show on Tuesday, Reality Blurred reports.
Flagg gives an interview to San Diego Gay and Lesbian News in advance of the episode.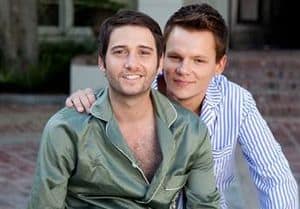 Says Flagg: "You know my sexuality does not define me, it is not who I am, but rather it is part of me, and I did not ever want people to think of me as "the gay real estate guy," I did not want that to be the only demographic that was watching me on TV or the only demographic to associate with me. I am very glad I did things the way I did because I feel I eased people into it and I made people comfortable with ME, and then kind of just dropped the fact that I like guys instead of girls. Many people knew, many had no idea."
Flagg has been dating interior designer Colton Thorn since 2007:
"Colton is the constant in my life. We work very well together. He is a design associate for a very prominent international interior designer and he is very talented. We share many interests such as design and traveling the world. I do love him very much. We have a very unique, unconventional and different relationship, but it is what works for us and who is to say what is conventional?"
Reality Blurred notes that it's the show's second coming out in as many seasons.