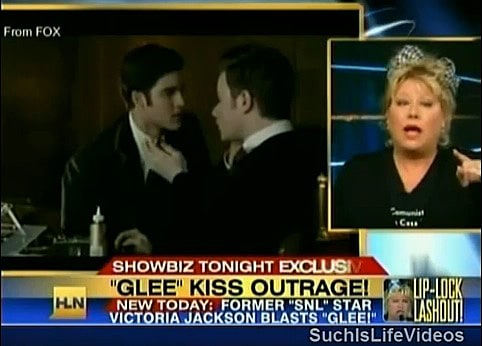 Former SNL star Victoria Jackson appeared on Showbiz Tonight and held up the Bible, saying that she doesn't believe she's homophobic.
"What matters is what the Bible says, and I'm really concerned about our country because secular humanism rules the airwaves and it's stealing the innocents away from this whole generation of children."
Last week, you may recall, Jackson wrote an editorial in World Net Daily attacking Glee for an episode which showed a teen gay kiss.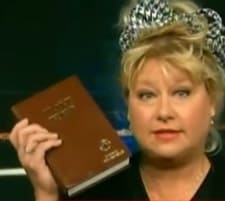 Wrote Jackson:
"This new al-Qaida magazine for women has beauty tips and suicide-bomber tips! Gimme a break! That is as ridiculous as two men kissing on the mouth! And I don't care what is politically correct. Everyone knows that two men on a wedding cake is a comedy skit, not an 'alternate lifestyle'! There I said it! Ridiculous! Did you see 'Glee' this week? Sickening! And, besides shoving the gay thing down our throats, they made a mockery of Christians – again! I wonder what their agenda is? Hey, producers of "Glee" – what's your agenda? One-way tolerance?"
Added Jackson to Showbiz: "I just wanna know why the liberals are pro-Muslim and pro-gay. Muslims kill gays. That's what's confusing to me. The only thing I can think of is that the Muslims hate God and the gays hate His word."
Oh, and she has gay friends.
Watch her rant, AFTER THE JUMP…