GLAAD began handing out trophies for its 22nd annual Media Awards in New York City last month. Tonight the awards show continued with part 2 in Los Angeles.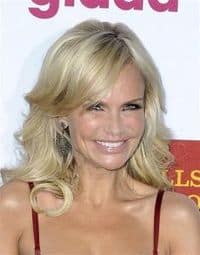 Sean Hayes presented Kristin Chenoweth with the Vanguard Award which she was awarded for her promotion of equal rights for the LGBT community and speaking out in support of Hayes after last year's controversial Newsweek article written by Ramin Setoodeh.
Glee and Modern Family tied for Outstanding Comedy Series.
Outstanding TV Journalism Segment – MSNBC's The Last Word With Lawrence O'Donnell won for his segment "Fort Worth Speech" about City Council member Joel Burns and his incredibly moving speech. Burns and O'Donnell met in person for the first time on stage tonight.
The Stephen F. Kolzak Award – Openly gay NBC Entertainment president Robert Greenblatt (presented by surprise guest Dolly Parton)
Outstanding Reality Program – Project Runway
Outstanding Film in Limited Release – I Love You Phillip Morris
The GLAAD Media Awards will hand out the final awards of the year on May 14 in San Francisco.
Watch Chenoweth's terrific speech (funny, endearing and touching – the perfect acceptance speech) and the acceptance speeches for the Modern Family/Glee tie, AFTER THE JUMP.