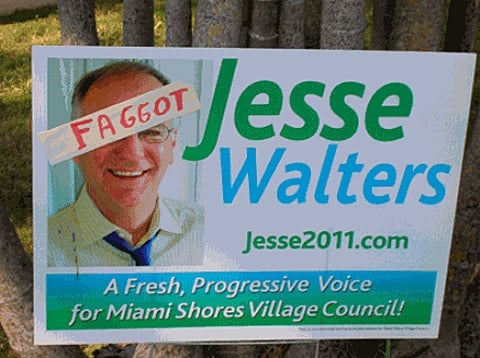 Campaign signs for Jesse Walters, an openly gay candidate for Miami Shores Village Council, were damaged by homophobic vandals over the weekend in an attack that police are treating as a hate crime. At least 10 of his signs were defaced with anti-gay slurs and other obscene language.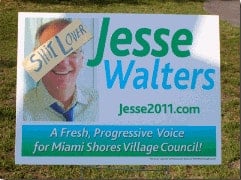 NBC Miami reports:
Walters, who's openly gay, says campaign mail was distributed to peoples' homes Saturday with a picture of his partner of 23 years and their 15-month-old daughter. He believes the picture set someone off.
Police have confiscated the signs and plan to dust them for prints.
Election day in Miami Shores is Tuesday. If Walters is elected, he would become only the fourth openly gay elected official in Miami-Dade.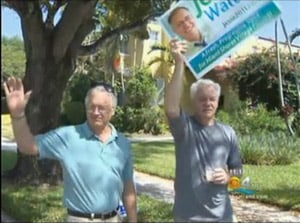 In an email sent to the Miami Herald's Steve Rothaus, Walters discussed how he discovered the signs and his resolve to get past their hateful messages:
I want to thank Councilman Steve Loffredo for coming over to our house this morning to tell me about it.  He alerted us that the first  sign was in the yard of his daughter's next door neighbor.
We then went out and found defaced signs at the corner of 96th Street and NE 6th Avenue and 94th St and NE 5th Ave.
If you see any additional signs, please let me know ASAP.
I am in the process of reporting these to the police.
It's hard to explain how unsettling something like this is until you experience it.  Some folks are very scared by our campaign, but Miami Shores is not a place for this type of hate.  This will only energize us more.
Watch a news report from CBS4 in which Walters is interviewed, AFTER THE JUMP…