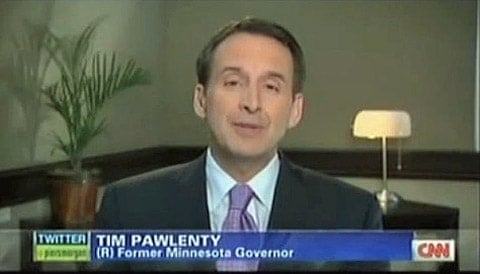 Former Minnesota Governor Tim Pawlenty told CNN's Piers Morgan last night that he's forming an exploratory committee and plans to announce he's running for President, after Morgan asked him what he thinks of Donald Trump and if he would ever consider being Trump's VP:
"I'm running for president. I'm not putting my hat in the ring rhetorically or ultimately for vice president so I'm focused on running for president. And as to Donald Trump, I don't even know if he's going to run, but like I said, I hope he does in one sense. I think he's funny, he brings a lot to the debate, but I just hope that the country will take the full measure of all the candidates and make an informed decision. I believe they will…I've got an exploratory committee up and running and we'll have a final or full announcement in the coming weeks here, it won't be too much longer, but everything is headed in that direction Piers."
Watch, AFTER THE JUMP…
In February, Pawlenty traveled to Iowa to speak before anti-gay group The Family Leader. He said there that he would like to rescind funds for 'DADT' repeal. You may recall that Pawlenty has also expressed his desire to fully reinstate the ban on gays in the military. In May of last year, when governor, Pawlenty vetoed a bill that would have given gays and lesbians the right to decide what to do with the body of their deceased partner.