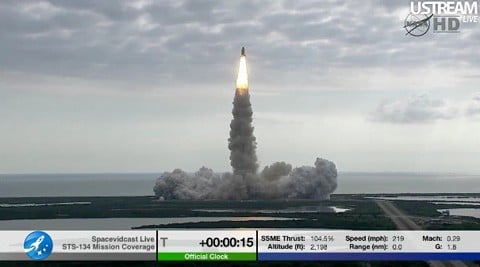 UPDATE: Moments ago, Space Shuttle Endeavour lifted off on its final flight to the ISS.
Watch, AFTER THE JUMP…
I'll have archive video when it's available. This is the penultimate flight of the U.S. Space Shuttle program.
"The six-member crew of astronauts including five Americans and one Italian, Roberto Vittori, will deliver a potent physics experiment to probe the origins of the universe during the mission, which will include four spacewalks.
The key mission of Endeavour's trip to the orbiting research lab is to deliver a massive physics experiment, the Alpha Magnetic Spectrometer-2, which will be left behind to scour the universe for hints of dark matter and antimatter.
US Congresswoman Gabrielle Giffords of Arizona, the wife of shuttle commander Mark Kelly, arrived safely in Florida after traveling there with family of another astronaut and will watch the launch from Kennedy Space Center, her office said.
Watch it, AFTER THE JUMP…