Singer Gavin DeGraw was beaten and subsequently hit by a cab early Monday morning after leaving an East Village restaurant, the NY Daily News reports: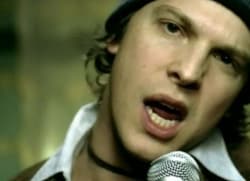 The 34-year-old, who had been out drinking with his friends, said he was accosted by a group of men on First Ave. between Fifth and Sixth Sts. about 4 a.m., the sources said. The "I Don't Want to Be" singer then stumbled his way up to Third Ave. and E. 19th St., where he was hit by a cab about 4:30 a.m., sources said. He was not seriously injured in the accident. DeGraw, who appeared to be intoxicated, was taken by ambulance to Bellevue Hospital, sources said. He was in stable condition Monday night.
DeGraw suffered a broken nose and several facial cuts.
DeGraw is touring with Maroon 5 and Train. You are likely familiar with his track "I Don't Wanna Be".
Listen, AFTER THE JUMP…