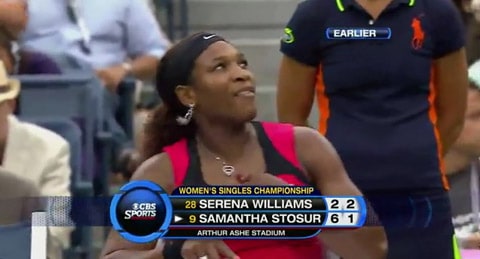 Serena Williams got into it with the referee at the U.S. Open last night after being given a code violation and losing a point for yelling "come on" at her opponent Samantha Stosur before the ball reached her.
The subsequent heated exchange between Williams and the ref brought up memories of her threat against a lineperson at the 2009 Open. Serena even suggested it was the same ref, though she wasn't correct:
"Are you the one who screwed me over last time? Yeah, you are."
Said Williams shortly thereafter:
If you ever see me walking down the hall, look the other way, because you're out of control… You're totally out of control, you're a hater, and you're unattractive inside. Who would do such a thing? And I never complain. Wow… We're in America last I checked. Can I get a water or am I gonna get violated for a water? Really, don't even look at me! I promise you, don't look at me, 'cause I am not the one. Don't look my way.
Williams ultimately lost to Stosur in straight sets.
Watch, AFTER THE JUMP…